Up to 90% of the hardware in an IT equipment fleet can be reconditioned
Discover the five steps of equipment lifecycle management.
Découvrez la gestion du cycle de vie de votre parc informatique en 5 étapes.
col-md-4
Image
#01
title_black
Collection and sorting of materials to be reconditioned or recycled
Image
#02
title_black
Testing, repair & reconditioning
Image
#03
title_black
Data erasure, GDPR compliance
Image
#04
title_black
Anonymisation, cleaning & packaging
Image
#05
title_black
Preparation of orders and shipping for resale
Everything that is not reconditioned is recycled!
Collection of equipment
Data dismantling
Recycling according to WEEE standards
fullscreen
Image
Refurbish your technology equipment and increase your economic efficiency
Sell your old equipment and enjoy a two-fold financial advantage.
After the audit, OLINN buys your telecommunications equipment, desktops, laptops, flat screens, printers, servers, and more, freeing up additional financial resources for you to renew your assets.
In addition, our dedicated re-use and recycling channel for IT and mobile phone equipment has official Entreprise adaptée (EA, "disability-friendly company") status. More than 80% of positions in our production departments are held by employees with disabilities. As such, the invoices we produce for services associated with asset trade-ins enjoy a partial exemption from the French AGEFIPH and FIPHFP contribution schemes.
fullscreen
Boost your operational performance
Secure your digital data.
All equipment acquired by OLINN is assessed before identifying elements are removed. All data is erased in accordance with EU general data protection regulations (GDPR) and the Blancco system, an approach devised by a recognised specialist in information systems security.
Image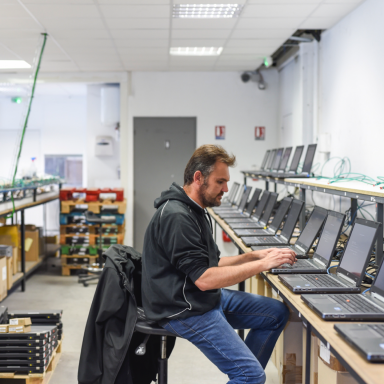 fullscreen
Image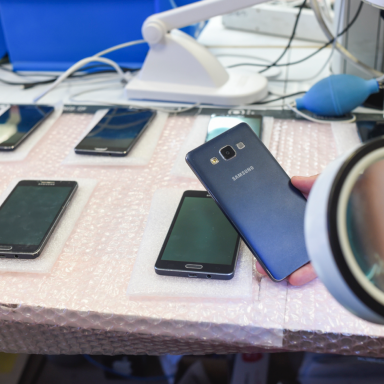 Optimise your company's corporate social responsibility
Participate in the circular and solidarity economy
Technology equipment acquired by OLINN is reconditioned and resold on several online platforms. With a re-use rate of more than 85%, OLINN extends the life cycle of the equipment and protects against its obsolescence.
By choosing OLINN, you'll become a player in the solidarity economy. Our dedicated IT and mobile phone recycling division creates jobs for people with disabilities and those involved in occupational integration programs.
Take action for the environment.
With OLINN, waste electrical and electronic equipment (WEEE) that cannot be reused is sent to our internal processing system for recycling.
With Olinn, you're opting to reuse and recycle, and thereby helping to save resources and limit the production of CO2. During its production, a new workstation consumes several hundred litres of water, several hundred kilos of carbon and several kilos of toxic materials.
Your CSR assessment, optimised.
OLINN helps you implement your CSR strategy. When we produce your CSR assessment, we factor in the tons of CO2 and litres of water saved, as well as the number of hours worked by employees with disabilities, according to the options chosen.
To go one step further:
Why not use Green Sourcing? Through its partner network, OLINN allows companies to acquire reconditioned equipment in order to renew, maintain or develop their IT and telephone assets. When you select this option, your company will enjoy a threefold advantage: you'll save money, participate in the solidarity economy and contribute to the protection of the environment.
For more information: www.olinn-distribution.com